Body Contouring 101 is the complete non-invasive body contouring roadmap. A collection of insights, research, instructions, stories, tools, and resources. Carefully crafted with both the professional and the consumer in mind.
For the aesthetic professional
A step-by-step guide that shows professionals exactly how to succeed with non-invasive body contouring in their own aesthetic practice.
Told from the viewpoint of the consumer, this book weaves together the author's methods in building their 7-figure body contouring business... their tactics of delivering the ultimate in patient education, their innovation in creating and harnessing the power of their own professional grade body products line, their unique utilization of holistic technology to optimize medical procedure outcomes, and their ability to consistently get peak improvement and happy patients.
A must-have, why-is-it and how-to handbook that lays out exactly how to get the body you want in an easy to understand and simple-to follow guide.  Real inside information from body contouring professionals.
No more gimmicky gadgets, fad diets, extreme exercise regimens, or sleepless nights! The information in this book should dramatically transform your life.
INSIDE YOU'LL DISCOVER:
Unwanted body fat has up to 8 different characteristics and why you can't defeat each type with the same approach and the same weapons.
How failure to meet certain nutritional requirements can actually prevent weight loss and lead to fat gain and how supplementing with the right nutrients can lead to weight loss and give you the body you want.
The secret ingredients to apply topically to your problem areas which can create the impressive inch loss you've been dreaming about.
Why you don't need drastic intervention like surgery to sculpt curves in the right places.
How you can dramatically change your body without pricey medical technology by incorporating simple, affordable treatments.
No-sweat proven systems to speed up fat loss at home.
Everything you need to know about the 40+ medical fat reduction devices available to you today and how to make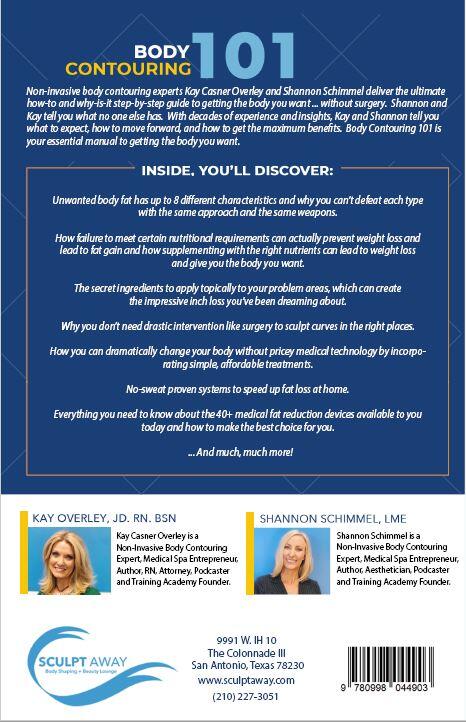 Kay and Shannon were literally on the ground floor of the introduction of non-invasive body contouring treatments and have taken every step the field has taken over the years.  Through their many years of research, clinical application and experience, Kay and Shannon possess true expertise in the body contouring field.  They have developed effective methods and possess valuable secrets to get the most reduction and improvement with non-invasive body contouring procedures.  They share these methods and secrets with you in this book.
Dr. Marco A. Lopez, F.A.C.O.G
Amazon Reviews
VERY informative and easy read!! I'm reading this before starting my medical spa and everything page has very Valuable information. THANK YOU
Great read for any Professional in Body Contouring or Body Sculpting or Weight Loss & Beauty Industry. Had my book spiral binded so I could fold my book in half to be able really read and take good notes! Give explanation of each use body contouring machines, Lipo Ultrasonic cavitation & infer red, vacuum suction, collagen enhancing suction machine.