Use a vacuum therapy course certification to clobber arm fat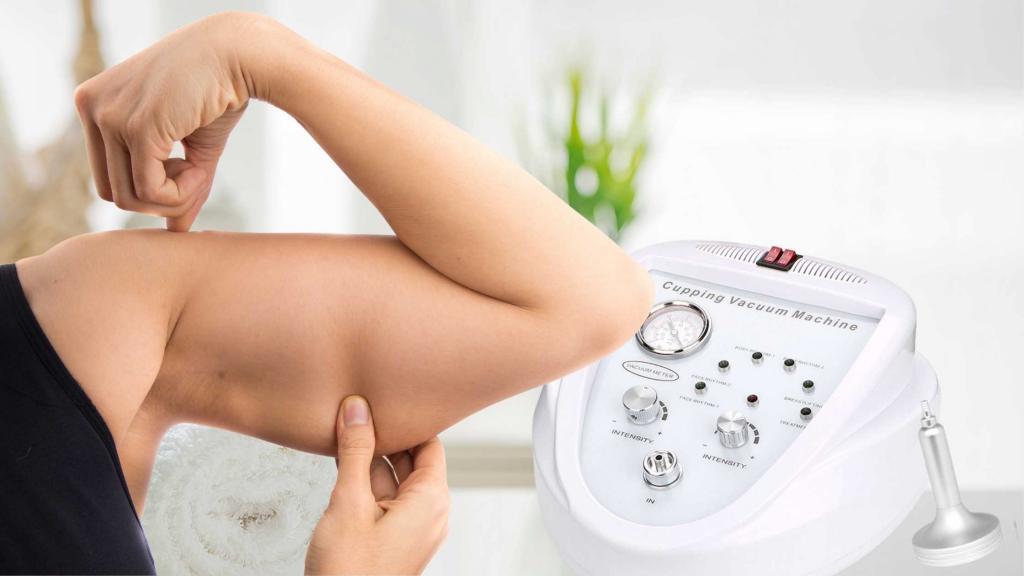 Isn't it amazing that the arm, such a small area of the body, can be such a big problem for your clients?  As estheticians, spa owners, and nurses, you can help your clients reduce excess arm fat by taking a vacuum therapy course (complete with body contouring certification) at the Body Contouring Academy.  Within 30 days, you can start helping your clients reduce their arm fat with Vacuum Therapy Lipo Sculpt treatments – and you'll increase your income.     
What is Vacuum Therapy?
Vacuum therapy is a holistic body contouring remedy that utilizes massage-enhanced negative pressure technology to break down superficial fat deposits.  The vacuum therapy device can treat four different issues, excess fat, cellulite, detox and butt sculpt, all of which you learn in our vacuum therapy course.
What is Vacuum Therapy Lipo Sculpt?
Vacuum Therapy Lipo-Sculpt treatments employ vacuum technology with mechanical pressure to reduce fat cells in a targeted area, like the arms. The treatment can effectively treat other areas too, like the abdomen, the thighs, the hips, and the back.
How does Vacuum Therapy Lipo Sculpt work?  
The sub-atmospheric pressure of vacuum technology activates the metabolism and breakdown of fats 

The pressure and massaging action of the handpieces creates a mechanical disruption of, and damage to, superficial fat cells 
An online vacuum therapy course that you can finish + implement without taking time off from work
Busy with your full time job and tons of other responsibilities?  No problem.  The course is 100% digital, so you can move at your own pace.  
Why we chose to offer online certification courses 
At the Body Contouring Academy, we made a calculated decision to offer web-based learning for busy professionals.  We know you need to continue operating your businesses while you upgrade your skills and pursue higher learning.  Take a look at the benefits of short, online courses that you can implement in less than 30 days.   
After completion of the Vacuum Therapy Course, you'll
Get your Body Contouring Certification – and open the door to endless opportunities

Add thousands of dollars to your bottom line – collect an average of $125 per treatment 

Bring more clients through your doors – capitalize on the 137% growth rate of body contouring

Diversify + multiply your revenue stream – so no more 'just barely getting by'

Market + sell body contouring like the experts – using their very same methods

Convert consultations to sales – using the very same techniques the experts use
We have used Vacuum Therapy Lipo Sculpt treatments in our MedSpa for many years…and still do today
We love treatments that clients love.  And clients love vacuum therapy treatments because they are 
Effective

Comfortable

Affordable.   
We have developed and perfected protocols with these objectives, first, to get your clients the results they want; second, to use your time efficiently; and third, to produce the greatest revenue for your business.  You'll learn all these secrets in our vacuum therapy course.
The treatments fit within most clients' budgets and are easy to sell. 
We've had great success with the treatments and we show you how to do the same with our courses, coaching, blogs, tools, and podcast episodes.  
Share these Arm Fat Facts with your clients 
More women than men suffer from arm fat; most women store 10% more fat than men.  
Women are genetically programmed to store fat.  It's a carryover from ancient times to ensure women survived to create new lives.  

Women produce more estrogen which encourages fat deposits for the "female curves." 

Women have lower levels of testosterone than men, which means they're more likely to store fat. 

Women do not build muscle as easily as men.  Women tend to bulk up with fat instead.  

Men tend to have more lean muscle, which burns more calories, even at rest.
Older women are more likely to suffer from excess arm fat.
Estrogen levels drop as women age.  The amount of estrogen determines

where

the body lays fat.  Fat is redistributed from the hips, buttocks, and  bustline to the belly and arms.  

Older women may notice a new 'jiggliness' to the arms.  This 'jiggliness' is caused by muscle atrophy, a loss of muscle mass brought on by the aging process.
Spot reduction exercises do not work to reduce arm fat.
Targeting fat with exercise is a myth, and there's no shortage of clinical research to support it.

By performing targeted strength training exercises, you can firm, tone, and build your  muscles but it will not burn the fat away from your arm.
Dieting can reduce overall fat, but does not target fat loss to the arm.
Your body can gain fat anywhere.  Where the fat goes depends on your genes, gender, age, and body type.  

Likewise, when you lose weight through dieting, factors outside of your control dictate where the fat is reduced.  
You can't tell your body where to lose the fat.  
But you can target the fat loss with Vacuum Therapy.
You cannot tell your body where to lose the fat.  But you can target the fat loss with Vacuum Therapy.  It has a great track record for treating arm fat.  We've used it at our Medical Spa since 2015 (and still do) with wonderful results. You'll learn all about it in our vacuum therapy course.
How to Reduce Fat Deposits in your Client's Upper Arms
The Vacuum Therapy Lipo Sculpt treatment is non-invasive and breaks up fat deposits.  After release of the fat cell contents into the body, the treatment assists in elimination of the fats, toxins, and excess fluids from the targeted area.  
While undergoing the treatment, your client will feel pressure, some suction, and massage.  Most clients describe the treatment as a comfortable massage, though the arms tend to be more sensitive than other areas.  The treatment takes less than 20 minutes to each arm.  
Most clients require a series of 6 vacuum therapy treatments to start.  Results are cumulative.  And after the 6 treatment series, you'll need to assess to determine the need for more.  
Clients typically start to see improvement after just a few treatments, and tend to see continued improvement for up to 3 months after completing the series.  Learn it all in our vacuum therapy course. 
What is the best arm fat solution?
You have to agree that wearing a long sleeved shirt every day of the year to hide arm fat is not a good solution.  Vacuum Therapy Lipo Sculpt is the solution.  
If you're interested in learning more about body contouring certification courses, like the Vacuum Therapy 4-in-1 Masterclass, visit www.BodyContouringAcademy.com.