Avoid discounting your prices by using these body contouring sales tactics instead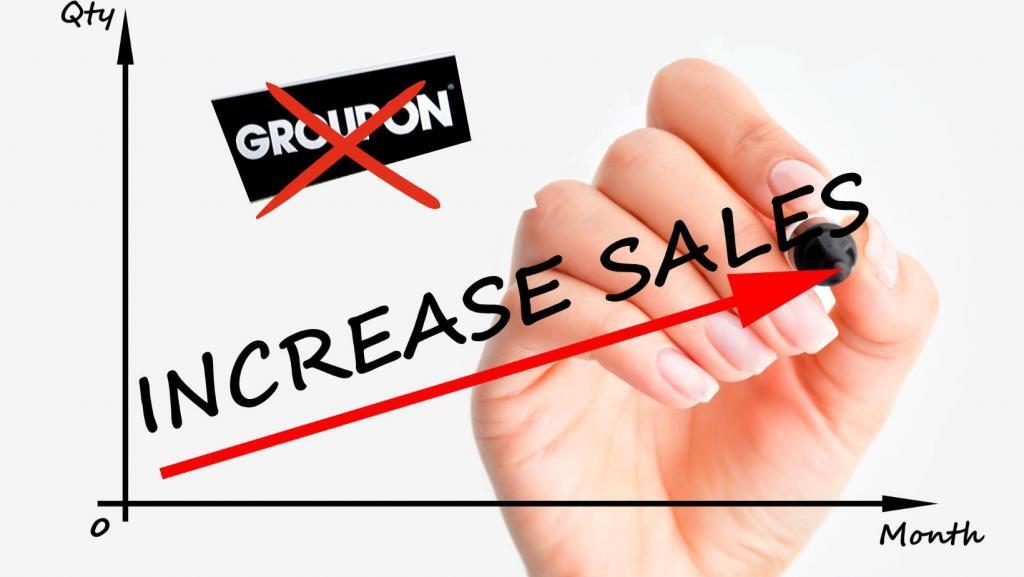 Discounting and coupons/groupons seem a natural reaction when business slows and income is down.  You're thinking that reducing prices and accepting lower profit margins is preferable to losing clients and having little to no business at all.  Though it's true that discounting your prices may bring increased cash flow in the short term, it can damage your business in the long run.  In this article we'll examine the ways discounting can harm your business and offer you several body contouring sales tactics to use instead to easily increase your traffic and revenue.    
Do you want to be known as the "discount provider?"
You probably don't want to be known as the "discount provider."  There are better ways to convince your prospects and clients to buy from you, which we'll discuss later in the article.
But first let's take a look at several pitfalls to offering discounts or coupons/groupons.  
How discounting and coupons/groupons can be bad for your business
1. Discounting attracts bargain hunters who will likely not be repeat customers
Bargain hunters search for the cheapest option.  They love the thrill of a bargain and they are not loyal to any business or brand.  They search the internet for deals and rarely pay full price.  And the problem is, once the discounting expectation is set, you'll have a hard time keeping them coming back for more without further and continued discounting.
2. Discounting devalues your business brand and sets the wrong expectations
One of the fundamental problems with discounting is the perceived value of your services.  Your customers will perceive discounted prices as the true value of your services.  This applies to both your existing clients and your newly acquired clients.  When they get used to paying discounted prices, many will decide against paying full price ever again.  In other words, you can train your clients to wait for the next  'big sale' to make a purchase.
3. Discounting can drive the market pricing down and devalue your treatments and services
By offering discounts, you could force your competitors to do the same.  And if this occurs, price wars can drive down market pricing and hurt all businesses involved.
4. Discounts and coupons/groupons can increase sales but can actually hurt your bottom line
In most instances discounts will increase sales during the promotional period.  But you have to remember that your profit margin will be reduced on those sales, which will impact your business.
How hard will your business be hit by discounting prices?  It depends whether you're running a limited time sale on just one of your services -or- whether you are dropping the price of several of your services (or taking coupons/groupons) for a longer period of time.  Studies have shown that it takes a business two full years to recover if they have discounted their prices indiscriminately in response to hard economic times.
Don't discount your treatments.
Increase your traffic and your sales with these body contouring sales tactics instead.
Body Contouring Sales Tactics
#1  Add value without discounting your price
Instead of discounting your price, add value.  For example, you can offer a free vacuum therapy detox slimming treatment valued at $150 with the purchase of a series of lipo laser treatments.  This is a win for your business and a win for your client.  Studies show consumers perceive more value in free services than from discounted prices.
Body Contouring Sales Tactics
#2  Offer series pricing
All non-invasive body contouring treatments require a series for best results.  So why not encourage your clients to commit to a series in return for reduced price per treatment?  Another win for your business and win for your clients.  Your business and your team stay busy.  Your client gets best results.
Body Contouring Sales Tactics
#3  Promote your Membership Program
Promote your Membership Program.  Memberships also produce win-win scenarios.
(1) for your business, a strategic way to increase your bottom line; and
(2) for your client, an easy way to meet her goals (through consistency and discounted pricing).
Memberships get your established clients into your business frequently.
And take a look at these statistics that show how a membership adds to your business' bottom line.
Existing clients spend 31% more than new clients
Membership programs increase a business' sales by 20%
Need help setting up or beefing up your Membership?  We have a blog article to help you!
Secrets to setting up a highly profitable membership program
Body Contouring Sales Tactics
#4  Promote one treatment, body problem or body area each month
A discount and a promotion are not the same thing.  A discount is a reduction in the price of your treatment.  A promotion creates hype about your treatment.
A promotion has three basic objectives
To deliver information to prospects and clients
To increase demand
To differentiate
There are various ways you could go about running a promotion.
You might highlight a problem like cellulite and offer an educational event and extend a special offer to those in attendance.
Or you may announce it's 'Everything Arms Month' and send out weekly educational videos about ways to reduce and firm flabby arms and extend special offers good only during "Everything Arms Month."
Body Contouring Sales Tactics
#5  Offer add-ons for a lower price
Add-on sales are additional services or products that complement your client's initial treatment purchase.  This helps to boost sales conversions, grow the bottom line, improve client results, and increase the client's perception of value.
For example, your client is considering buying a series of fat cavitation treatments to her abdomen.  You could offer 50% off electromagnetic muscle stimulation (EMS) treatments to her abdomen to reduce fat plus tone muscle – leading to optimized results.
Final thoughts on discounting
If you feel like you really need to generate business and get clients through your doors, and you feel that discounting is the quickest way
Avoid using the word 'discount'
Use 'special pricing' 'limited time pricing' or 'special offer'
Run it for a limited time, no more than a month
Run it for a limited treatment or technology
Consider re-engaging clients you haven't seen in a long time and extending them a 'special offer.'
Always offer your Members the best pricing.
Never extend an offer to new clients and exclude your existing clients.
Pre-purchased coupons/groupons are by-passing your initial evaluation of the client altogether.  The client may not be a candidate for the treatment.  She may even have contraindications to the pre-purchased treatment.  You could be setting yourself up for unhappy clients, bad reviews, and adverse outcomes.
Visit www.bodycontouringacademy.com for more information about building and growing your business with non-invasive body contouring.