Fat freezing certification: cryolipolysis and coolsculpting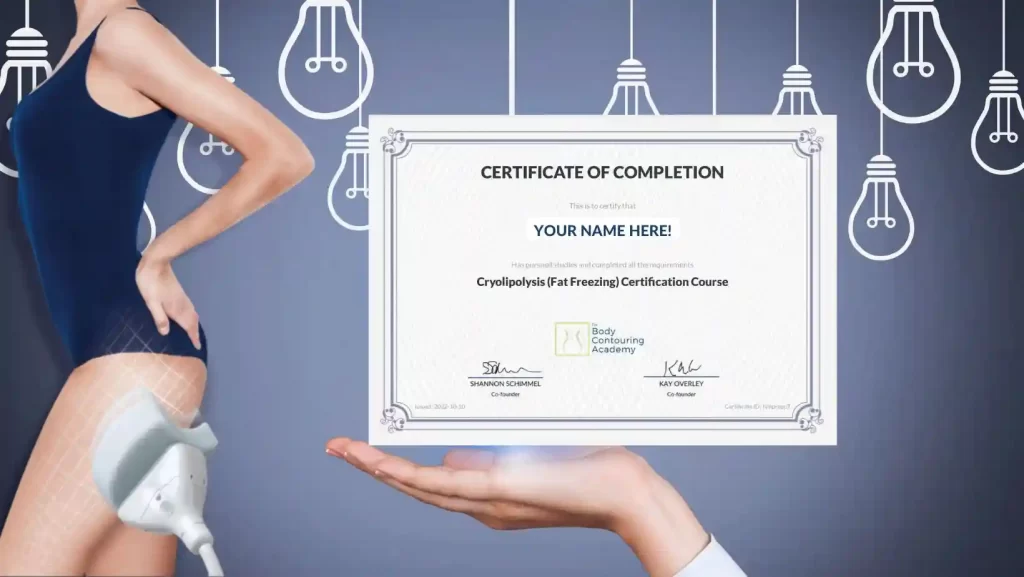 Fat freezing is an incredibly popular fat reduction treatment.  Do you offer it?  In 2019 more than eight million treatments were performed by board-certified plastic surgeons alone.  Even so, confusion abounds about the technology, cryolipolysis, and the brand name of the most well known cryolipolysis device, coolsculpting.  And many body contouring professionals still don't have an answer to their oft-asked question, does earning my fat freezing certification mean I am certified in coolsculpting?
This article
1 Walks you through and explains the answer to that question
- and -
2 Gives you details about what you will gain from an online fat freezing certification course.
Plus! Get a Body Contouring Equipment Guide inside!
As explained in the ultimate guide to the best body contouring courses, confusion still exists between the fat freezing technology and the name of the machines.
Cryolipolysis (fat freezing) is more-often-than-not referred to as 'Coolsculpting.'  This is wrong. Here's why.
What is coolsculpting?
Coolsculpting is the brand name for the first FDA cleared device utilizing cryolipolysis technology for fat reduction.  It's been around since 2010.
What's the difference between cryolipolysis and coolsculpting?
Cryolipolysis is the name given the technology that utilizes freezing temperatures to destroy fat cells, whereas coolsculpting is the brand name of the most well known medical grade fat reduction device.
How and why the Coolsculpting Brand Name has become the generic for all cryolipolysis machines
Coolsculpting is the 'kleenex' of fat reduction devices, arguably even for those fat reduction machines that don't use cryolipolysis, and use laser or ultrasound or some other technology instead.  For example, we use Sculpsure at our medical spa; our clients often mistakenly ask for and refer to Sculpsure as coolsculpting.
This is due to the well known marketing phenomenon referred to as 'the kleenex effect.'
You know the 'kleenex' concept, when you reach for a tissue and say you need a 'kleenex.'  And similarly, when you say you want to be certified in coolsculpting…but you do not own a coolsculpting device, and you do not plan to purchase an actual coolsculpting brand machine with a pricetag of over $125K.  More on the qualifications to purchase an official coolsculpting brand device later.
How does this 'kleenex effect' happen?
Over time a brand name can become so well known that consumers associate the brand name with the action of the product.  MOST CONSUMERS, and unfortunately MANY PROFESSIONALS, mistakenly believe that any treatment using cryolipolysis technology - or often times any machine that reduces fat non-invasively - is 'coolsculpting."
We hope we've cleared the confusion.  And we're guessing that what you're looking for is fat freezing certification, via a Cryolipolysis (fat freezing) certification course.
What is fat freezing (cryolipolysis)?
Cryolipolysis is a non-invasive fat reduction technology that uses cold temperatures to freeze fat cells until they die, all without damaging the skin or surrounding tissue, and leads to slimming, shaping and a reduction in inches in the treated area.
How does cryolipolysis work?
Cryolipolysis delivers precise, controlled cooling
The technology is delivered via either a static applicator placed on the targeted area of the body or via a hand-held movable applicator focusing on the target area
The applicator targets fat cells under the skin (subcutaneous layer) in the targeted areas
The cryolipolysis applicator cools the treated area of the body to below 40 degrees Fahrenheit (4 degrees Celsius), a temperature low enough to freeze fat cells, but not low enough to damage the skin or surrounding tissues; fat cells are more vulnerable to cold temperatures
The treated fat cells are frozen, and then die
Over time, the body naturally processes the fat by eliminating those dead fat cells via the lymphatic system
The result is a slimmer, more sculpted area of the body
So now let's dive in so you can see what all you get in the cryolipolysis fat freezing course.
Because it is the same technology as coolsculpting.
Want to jump ahead and find out how to become a Cryolipolysis (Fat Freezing) Provider?
Learn more about the Cryolipolysis (Fat Freezing) Certification Course
In the online Fat Freezing Certification course (Cryolipolysis), you will learn all about
Cryolipolysis (Fat Freezing)
What is Cryolipolysis?
History of Cryolipolysis
How does Cryolipolysis work?
How many treatments will your clients need?
When will your client see results from Cryolipolysis?
How long will your client's Cryolipolysis results last?
Who are the candidates for Cryolipolysis treatments?
How do you perform the treatments?
How do you care for clients post-treatment?
You will learn other Non-Invasive Fat Reduction Technology options your clients may ask you for
Ultrasound Cavitation
Vacuum Technology/VacuumTherapy
Radiofrequency (RF) Skin Tightening
LED and LED Paddles (Lipo Laser)
Electromagnetic Muscle Stimulation (EMS)
Laser Lipolysis
Acoustic Wave Therapy
Vibration Therapy
Intermittent Compression Therapy
You will learn about client's Body Issues, also referred to as
Body Contouring-ology (Conditions/Complaints)
Unwanted fat
Flaccid skin
Cellulite
Stretch Marks
Plus you'll get an understanding of the Lymphatic System and the critical role the lymphatic system plays with the fat reducing treatments with non-invasive fat reduction treatments like Cryolipolysis
With the online fat freezing certification course, you'll also get all the Cryolipolysis treatment details
Treatment Areas
How to perform Cryolipolysis treatments
Cryolipolysis Machine Controls and Functions
Client treatment experience
During treatment

After treatment
Side effects

Contraindications
And you'll learn how to take care of your cryolipolysis machine
The Cleaning, Sanitation, and Machine Parts Maintenance
Plus! You get all the documents you need to start delivering cryolipolysis (fat freezing) treatments to your own clients
Treatment Protocol, with downloadable form
Treatment Documentation, with downloadable form
Informed Consent, with downloadable Consent form
Pre/Post Treatment Instructions, with downloadable form
Getting excited about becoming a Cryolipolysis (Fat Freezing) Provider?
Learn more about the Cryolipolysis (Fat Freezing) Certification Course
Generate high income with your fat freezing certification!
Cryolipolysis (fat freezing) fat reduction treatments are popular and in-demand.
It's arguably the most recognized and requested treatment today.
So it's no wonder you can generate HIGH INCOME with your fat freezing certification.
Just take a look at the revenue you can generate with cryolipolysis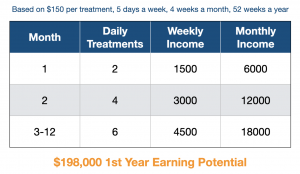 So now you know all about cryolipolysis fat freezing certification.  The question remains…
How do you get certified in Coolsculpting®?
Coolsculpting Certification and coolsculpting training is delivered by the coolsculpting manufacturer, Zeltiq Aesthetics, Inc., and is restricted to providers who have physician association and own a coolsculpting device.
PRO TIP:  We've seen offers for Coolsculpting Certification.  You should question any offer promising 'Coolsculpting Certification' from companies other than the official Coolsculpting manufacturer, Zeltiq.  Owning an actual Coolsculpting brand device and being associated with a physician are a prerequisite to Coolsculpting Certification.
It's easier to understand the difference between cryolipolysis, fat freezing and coolsculpting when you take a look at the…
3 Levels of body contouring equipment
Body contouring providers can choose from hundreds of options when selecting body contouring machines.
Some machines require physician involvement and others do not.
Some machines require providers to have a business in place and others do not.
The equipment can be categorized into three levels.
Body Contouring Equipment Guide
Here's the countdown to the Body Contouring Equipment Levels…
3…2…1
Level III Entry Level Equipment
These body contouring machines utilize FDA approved technologies and have no conditions to purchase.
The machines are affordable, the technologies are dependable and the machines deliver good results.
Conditions to purchase:  None
Who is Level III good for?  These machines are great choices for both
(1) the body contouring beginner and
(2) the existing practice/business looking to expand.
What are some examples of Level III body contouring equipment?
Cryolipolysis machine
6 in 1 Cavitation machine
Vacuum Therapy machine
Electromagnetic (EMS) muscle toning machine
Pressotherapy machine
Whole body vibration machine
And many more!
Want to learn about getting your body contouring certification with Level III machines?
Visit the Body Contouring Academy's Online Certification Courses
Level II Paramedical Equipment
These body contouring machines utilize paramedical or medical grade technology, most are FDA cleared, and these machines generally do NOT require physician association.
These machines have performed clinical studies showing efficacy and safety, have been proven effective, and deliver good results.
Conditions to purchase:  Most of these manufacturers require you to be a business owner prior to purchase, but do not require physician association.
Who is Level II good for?  These machines are great choices for existing businesses like massage businesses, day spas, esthetician practices, tanning salons, body contouring businesses, chiropractic practices, and weight loss centers.
What are some examples of Level II body contouring equipment?
Cryoskin
Kaasen
Cryo T Shock
Endospheres
Level I Medical Equipment
These body contouring devices and machines that are medical grade, FDA cleared, and require physician association.
These machines have undergone peer-reviewed clinical studies and have been proven to be safe and effective and have been proven to deliver good results.
Conditions to purchase:  Your business must have a physician or a medical director.
Who is Level I good for?  A great choice for medical spas and physician practices.
What are some examples of Level I body contouring equipment?
Sculpsure
Emsculpt
Coolsculpting
Trusculpt
Venus Legacy
It's our job at the Body Contouring Academy, as aesthetic business educators and as aesthetic business coaches, to teach you the professional and business owner.
And it's your task as body contouring providers and aesthetic business owners to educate your clients.
Visit www.bodycontouringacademy.com to learn more about building your business with non-invasive body contouring.