Inflation solutions for body contouring businesses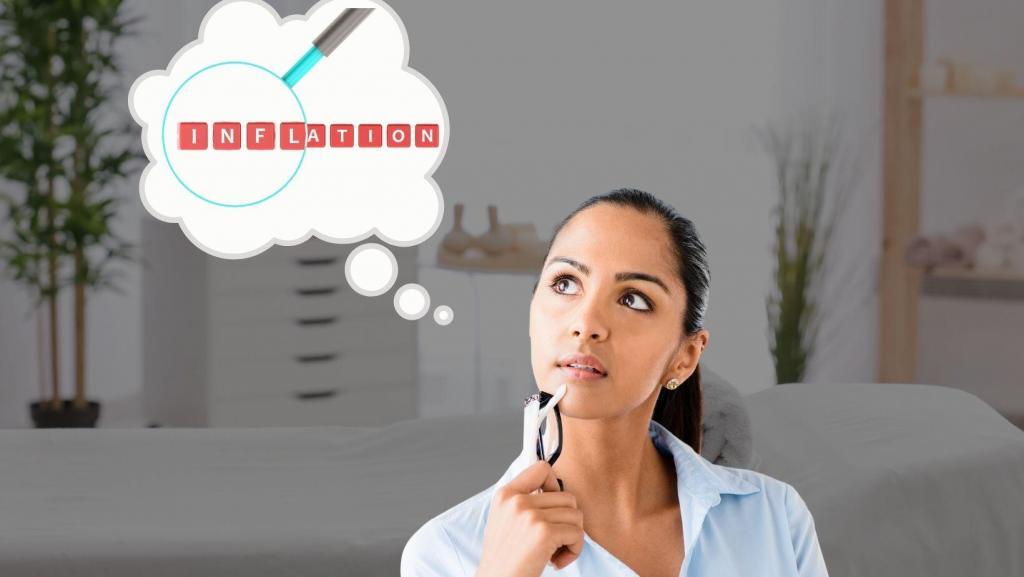 Inflation and an economic recession have raised their ugly heads in the US.  And we know you've been feeling the impact as body contouring business owners.  Less traffic, fewer sales, employees with idle time.  We understand.  We've been through this already; we owned and operated a medical spa during the 'Great Recession of 2008'…and came out of it a winner.  So before you take the knee jerk reaction of raising fees, slashing prices, cutting back on advertising spend and/or laying off employees, read this article. We have much better inflation solutions for body contouring businesses.
How one body contouring business owner approached it
It hit us that we had to share our inflation solutions for body contouring after a recent meeting with the manager of Sculpt Away (the medical spa we founded in 2015).  At the top of his mind was finding answers for the changes brought about by inflation and the recession.  For him just as with many business owners today, these problems are brand new thanks to the past years of economic prosperity.  By the way, inflation is now at its highest level in forty years.
4 mistakes most business owners make when dealing with inflation
Most business owners make some or all of these 4 mistakes during times of high inflation and recession
Raising fees to cover rising overhead
Discounting prices in an attempt to close more sales
Reducing advertising spend to slash overhead
Laying off employees to cut expenses
Of the four, he was not planning to cut back on advertising; he knows better because he's a marketing guy.  And he was not considering raising prices; he didn't think the market would bear it.  But he was thinking he needed to slash prices and was considering laying off employees.
Thankfully he wanted our advice and this is what we told him.     
Inflation solutions for body contouring businesses #1
Inflation and economic recession are scary things, so you have to look past your fear and follow logic.
Instead of raising your fees
Focus on your high margin treatments and/or services, your 'Profit Center'
The higher the margin on your treatment, the fewer sales you need to make a good profit
How to define your 'Profit Center'
Most body contouring businesses have one service/treatment that serves as your 'profit center,' a service/treatment that
Attracts clients
Provides reliable results
Produces good income
With a high profit margin
Lean in on that service/treatment.  Focus all of your advertising efforts on it.  This is not the time to spread your advertising budget across many treatments/services.  You can keep your ads sounding fresh and new promoting the same treatment or technology by focusing on different treatment areas in different months.
Focus on building your Membership
Membership services are typically low-margin services.  So you may be wondering, I thought you said to focus on your profit center, your highest-margin service?  Yes we did.
But…your Membership is (1) a way to sell more services/products to the same people over and over again PLUS (2) a way to sell more services/products to MORE people (by recruiting more Members).
Memberships are usually not pricey and will appeal to clients on a tight budget.  
A strong Membership 
Boosts traffic
Increases sales
Builds loyalty
Generates referrals
And…keeps you employees busy!
Inflation solutions for body contouring businesses #2
Instead of discounting your pricing
Don't lower your prices.  Focus on value, rather than price.
Your goal:  You want your clients to perceive the value of the benefits of a treatment/service as greater than the price she is paying.  How do you do that?  One way is to…
Offer 'bonuses' with treatments
Instead of slashing the price, keep your existing price but throw in a bonus treatment or two.  You'll not only close more sales, but you'll keep your employees busy with the bonus treatments!
Here's an example.  Your client gets two free vacuum therapy detox treatments (a value of $350) with her purchase of a cryoskin series of five treatments.  Other than the labor, there's very little cost involved in delivering the two vacuum therapy treatments.
Inflation solutions for body contouring businesses #3
Instead of cutting back on your advertising budget
Focus on Lead Management
More than likely, you have a substantial budget set aside for lead generation, or attracting leads.
Now is a time you must turn your focus to lead management.  The process of lead management starts at the time your prospect contacts your business and continues until the prospect becomes a client.
The goal of your lead management system is to convert all qualified leads into appointments, and to follow and nurture all qualified prospects who do not initially schedule until they do ultimately schedule.
Now that inflation has slowed your business and your team has more time away from delivering care, your team should focus its efforts on converting the leads you get into appointments.  You don't want to lose a single lead!
We disclose our lead management secrets in our recent blog.  In it you'll find our 'Lead-to-Conversion Process.'  Get the info and put it to work!
Reduce other costs
Now is a time to tighten your belts.
Reduce inventory, order more frequently instead
Negotiate for a temporary reduction in rent (You might be surprised.  We did so successfully during our hard times during the 'Great Recession')
Be more energy conscious
Start doing laundry in house

Start doing daily cleaning in house  
Inflation solutions for body contouring businesses #4
Instead of laying off employees
You've likely invested a great deal of time and effort in on boarding and training your team members.  Instead of losing them, take this time as an opportunity to make them stronger.
Cross-train your employees
An agile workforce is a must for any small business owner, but in these times, it could mean success or failure for your body contouring business.
For example, when your treatment specialists don't have clients, they can
Be trained to contact leads and work your Lead Management System
Be trained to answer phones
Assist you in delegated managerial duties
Professional development
Create a stronger, more knowledgeable team.
Have there been new manufacturer trainings released?  Did you see a great customer service webinar you'd like for your employees to watch?  Or read an informative blog?  Take advantage of the downtime and grow a better team.
Contact clients who are lost to follow up
Do you have clients who you haven't seen or heard from in a few months or even a few years?
Your idle employees can contact them and re-engage them.
Conclusion
As with all small business solutions, you must constantly look for ways to be more efficient.
You have to fight the fear that flows naturally when you face inflation and recession.
Instead, you must look for logical solutions.
Bottom Line.  You need to find a (temporary) new way of operating your business….until inflation and the recession ends.  And it will.  You'll come out okay.  Take it from us, med spa survivors of the 'Great Recession of 2008.'
Visit www.bodycontouringacademy.com to learn more about building and growing a successful  business using non-invasive body contouring.