Successful Texas Medical Spa running two Sculpsure devices with plans to buy a third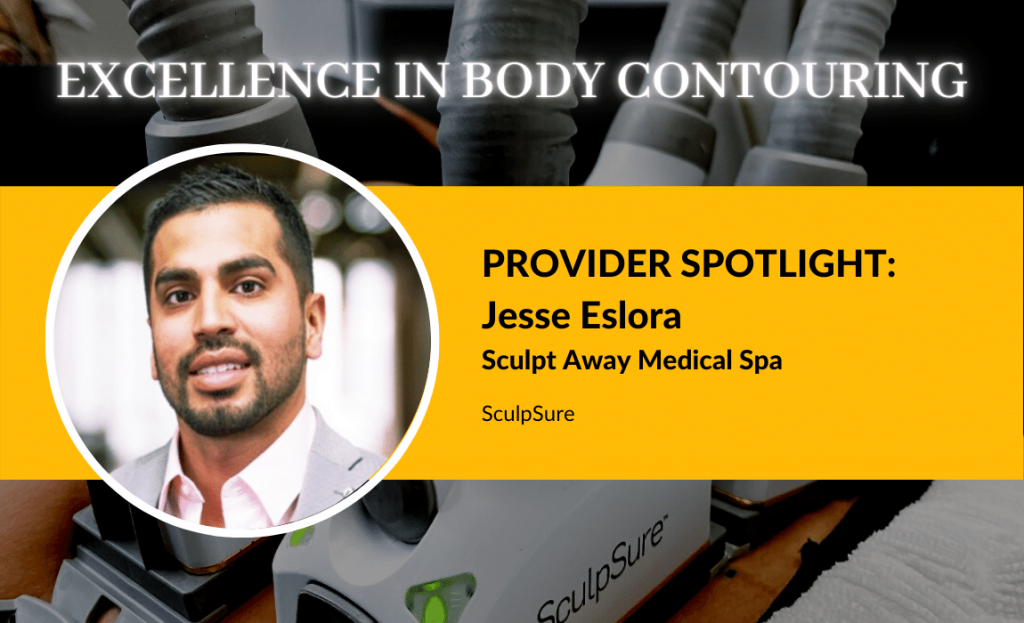 Information for this article was taken from a podcast interview on the Body Contouring Academy's Proven Profits Podcast.  To hear the interview in its entirety, tune in here.  
"There's not a better device on the market right now for permanent fat reduction," says Jesse Eslora describing Sculpsure.  Jesse is co-owner of Sculpt Away in San Antonio, a prosperous med spa that is running two Sculpsure devices full time with plans to buy a third Sculpsure device.
Body Contouring Expert Provider and Practice Information
Jesse, an accomplished digital marketing expert purchased Sculpt Away Medical Spa and re-opened its doors right in the midst of the 2020 pandemic.
Why take such a risk?  Jesse jumped on the opportunity to acquire an established successful medical spa.  That move had always been in his plans.  He had developed a deep passion for the aesthetic industry while serving as the digital marketing agency for numerous aesthetic businesses, and he himself had been a consumer of aesthetic treatments for many years.
Sculpt Away Medical Spa is San Antonio's choice destination for top-tier body sculpting solutions, offering a unique combination of body sculpting treatments, wellness services, age-defying medical and non-medical services, and traditional spa services.  The business currently offers the following body contouring treatments.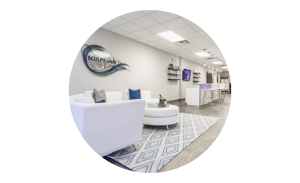 Sculpsure
Emsculpt
INTRAcel RF Microneedling
Z-Wave
Vacuum Therapy
Press Away Therapy
Infrared Sauna
Whole Body Vibration Platform
Sculpt Away has won multiple awards and has been a nationally recognized Sculpsure leader since 2016.  Learn more about Sculpt Away at SculptAway.com.
Decision to purchase
In 2015, the med spa lacked an option for permanent fat reduction and evaluated just two technologies to fill the void. One option destroyed fat by freezing and the other by heat.  They chose the laser technology of Sculpsure because it fit the needs of the practice perfectly.  It has proven to be a sound decision because the practice has filled the books with one, then two, then adding the submental applicator, up to today's demand, "in the market for a third Sculpsure device."
Implementation of Sculpsure: training, operational protocols & forms, marketing, treatment protocol
The original implementation of Sculpsure was already in place.  But for new hires, Sculpt Away has developed a strict protocol for Sculpsure training.
Manufacturer training and education (includes current staff for continued education)
Training Video
Before/After Photos training
Sculpsure Certification course
Hands on and getting to know the device with staff serving as patients
Shadowing (observing every area of the body at least one time)
Focus on one body part at a time
Education on forms and scheduling
'Practice treatments' with staff as patients
Released to treat patients 'one area (4 applicator)' treatments only
Released to treat patients 'multiple areas
Sculpt Away utilizes the manufacturer's recommended treatment protocol.  Over the years of practice and experience, Sculpt Away has built upon that protocol and developed its own proprietary techniques and processes.
Body conditions and areas
Sculpt Away uses Sculpsure to treat stubborn areas of fat just about anywhere on the body, abdomen, flanks, thighs (inner and outer), upper arms, back, and bra area, plus submental.
See some of Sculpt Away's before/after photos below.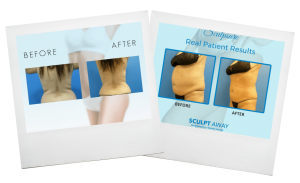 Patient experience
Jesse describes the Sculpsure procedure as tolerable for patients.  He says the tolerance varies as with any medical procedure.  He did note that some areas of the body tend to be more sensitive to others, and for those his team uses "talk anesthesia."  All in all, he says the "Sculpsure device does a great job at keeping the treatment comfortable."
Patient satisfaction
Jesse credits the intense, highly structured, step by step education provided at Sculpt Away as a big part of his business' success with Sculpsure, including the patient experience.  He states that it brings the patients comfort when they know what to expect each step of the way.
Sculpt Away has an incredible number of patient testimonial videos and 128 Google Reviews with a 4.7 rating.  Jesse says Sculpt Away has a very specific process to make sure they have happy Sculpsure patients.  It's all about education and expectations.  It starts with the content on the website, continues in the consult room, in the treatment room, at follow up visits, post treatment instructions, all built up to the final visit.  He reports that Sculpt Away's patients make multiple referrals, undergo many more treatments, and are happy to appear on video.
Post treatment regimen
Patients are given detailed post treatment instructions.  The most important being drinking lots of water and massaging the treatment area.  Sculpt Away goes a step further and emphasizes the importance of lymphatic system optimization. Sculpt Away encourages use of a cupping device and a slimming gel post treatment, both available for purchase in the med spa.
Overcoming struggles
Jesse says that issues with Sculpsure can arise at any time and the secret to overcoming them is "tackling them right away."  His process?
Investigate
Identify the real issue
Address the issue
Write protocol
Train the team
Pricing, packaging, profits
Sculpt Away always has an eye on the market and performs market analysis for its pricing foundation.  Pricing can be done per treatment, per treatment area or per applicator.  Sculpt Away is currently basing price on applicators with a standard to treat with 4 or more applicators, so as to avoid untreating.
Jesse noted that Sculpsure is "a good, profitable device."
Marketing
Jesse says the key to success with Sculpsure is the same as with any treatment.  It's creating content.  For advertising he uses his website, Facebook ads, Instagram ads, and a "few other secrets."  He says owning a medical spa has allowed him to "get underneath the hood" and really expand his marketing mind.
Overall opinion and recommendations for other practices
"Not a better device on the market now for permanent fat destruction with the consistency and predictability of Sculpsure."
He would definitely recommend Sculpsure to other practices, "except if you are in San Antonio," he said with a chuckle.
Advice or tips for other practices
Get your processes, procedures, and SOP's down.  With Sculpsure, as with any other device, you must educate and set detailed expectations…from start (website and advertising) to finish (final results).
See the Sculpsure Facts Report to learn more about Sculpsure.
---
Visit www.bodycontouringacademy.com for more information about building and growing your  business using non-invasive body contouring.