6 in 1 Cavitation Machine behind entrepreneur's short one year path to a new body contouring business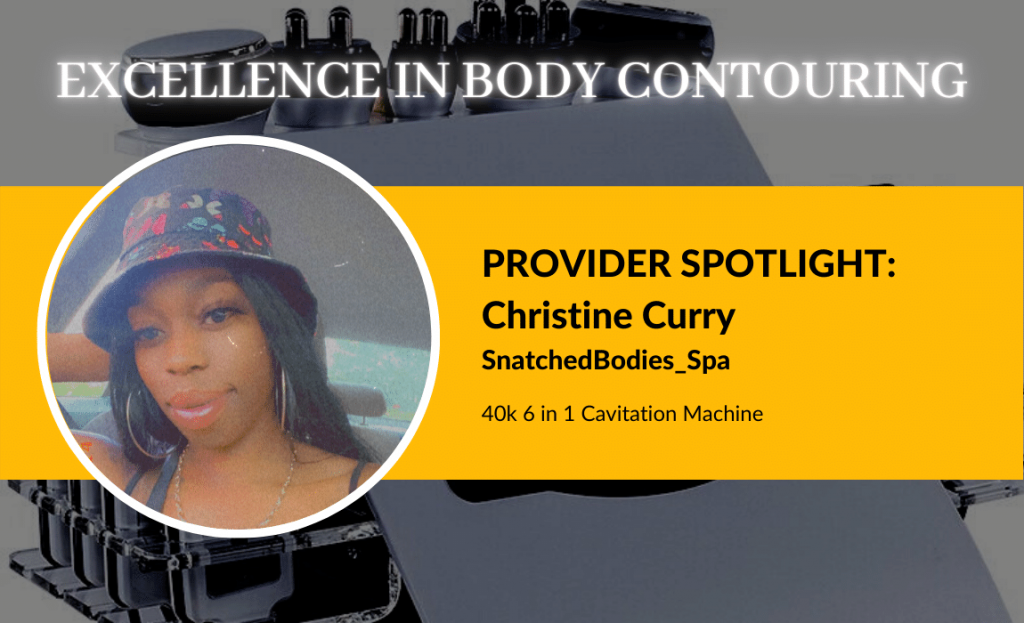 Information for this article was taken from a podcast interview on the Body Contouring Academy's Proven Profits Podcast.  To hear the interview in its entirety, tune in here.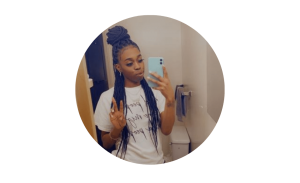 "Put in the work.  Put in the time.  Put in the practice."  Words of advice from Christine Curry of SnatchedBodies_Spa, who went from full time Amazon  employee to becoming a thriving body sculpting entrepreneur in just one year.  And to make her story even more remarkable, she's done it all with just one body contouring device, the 6 in 1 Cavitation machine.
Body Contouring Expert Provider and Practice Information
Christine's interest in the body sculpting industry started with her desire to have treatments.  But due to some health issues and the 2020 pandemic, she didn't have the treatments after all, and decided instead to embark on a new career as a certified body contouring technician.
In addition to working full time at Amazon, Christine drove an hour and a half each way to obtain body contouring education and training, and her Body Contouring Certificate.
"I will say it was not easy," says Christine of her year long journey.  It was not an overnight success.  She completed her training, then took an additional month to practice on her sisters, parents, and friends.  And while doing this, she started posting on social media to build up interest in her business and she soon had clients.
She saw her clients at the end of the day after her Amazon hours and on her days off, until she built up enough business to cut her hours to part time at Amazon and expand her hours to part time at body sculpting.  The day very recently came when she decided she had enough momentum to leave Amazon completely and run her body contouring business full time. Business is great and she couldn't be happier.
The business offers exclusively body contouring treatments.
Chin Reduction (RF)
Wood Therapy x Skin Tightening (RF)
180 Transition (Vacuum Therapy)
360 Lipo (Ultrasonic Cavitation with wood therapy)
Mommy Makeover (a combination of 4 modalities)
Lipo Cavitation (Cavitation)
Laser Lipo
RF Skin Tightening
Mild Butt Lift (Vacuum Therapy)
Butt Enhancement/Mega Lift (Vacuum Therapy)
Transformation (Vacuum Therapy)
Decision to purchase
The body contouring education and training course offered certification using the 6 in 1 Cavitation Machine, so the decision to purchase this machine was pre-made.  Christine is very happy with that choice because "likes the machine a lot."
She said she purchased the 6 in 1 Cavitation Machine from her school and it took a very long time to arrive due to the pandemic.  When it did arrive, it needed assembling.  She had learned how to assemble it in class, but by the time it arrived, she laughingly says "I had forgotten."
Christine is very impressed with all of the components of the machine, RF Skin Tightening, Laser Lipo, Cavitation and Vacuum Therapy.  But she says her favorite is Vacuum Therapy, citing the great results for reducing fat, shaping and reshaping.
Implementation of the 6 in 1 Cavitation Machine: training, operational protocols & forms, marketing, treatment protocol
Christine attended a body contouring academy for training and education.  She said her training  included basic business information and marketing tips, in addition to clinical.  She developed her current treatments and protocols combining what she learned in her program with her own experience performing the treatments.  She says she listens to client feedback, concerns, and also evaluates client results to design and perfect treatment plans and protocols. She is a solo provider, for now, so no training is necessary.
Body conditions, patient experience, patient satisfaction rate
Snatched Bodies Spa addresses multiple body concerns.
Lax skin
Unwanted fat
Cellulite
Buttocks enhancement
Stretch marks
Double chin
Shaping
Christine is "most impressed with the skin tightening results."  But while she says that, she moves on to excitedly describe the instant inch loss many clients can see with Laser Lipo.  Then to confiding with us that she has a favorite…Vacuum Therapy for its great shaping ability.  Bottom line.  She is very impressed with the machine and all of its capabilities.
She follows up with clients to answer questions and to make sure they do not have any concerns.  She knows clients are ecstatic when they send her their selfies, which she says, "they often do."
Overcoming struggles
"It was not easy."  When struggles arise, Christine tells us that her motto is, "go back to the drawing board."  For example, after two months of working full time and being crazy busy, all of a sudden clients were not scheduling.  She went "back to the drawing board" to figure out what she needed to do to get clients to book and soon business was booming.
Pricing, packaging, profits
Christine developed her own price list.  Her pricing is available on her website.  And before she had a website, she posted her price list on Instagram.
She believes in both packaging and in combining modalities because she has learned that by doing so, she gets the best results.  See some of Christine's before/after photos below.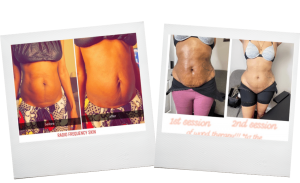 Profits?  Snatched Bodies Spa is a smashing success.  One year after body contouring certification, the spa provides more than adequate revenue to support Christine.  Christine has big goals for growth and believes her business will continue to prosper.
Marketing
While still training and practicing, Christine posted about her body contouring treatments on her personal social media accounts.  In short time, she created accounts for her business,
SnatchedBodies_Spa.  After that, she created her website.
And she still does her own marketing using social media.
Overall opinion and recommendations for other practices
Christine says she would recommend the 6 in 1 Cavitation Machine to others.  She advises others interested in pursuing a new career in body contouring to "make sure you're doing your research and don't be afraid to reach out to people."
"Don't give up."  "Put in the work, the time and the practice."
---
For information on how you can get certified in the 6 in 1 Body Contouring Machine check out the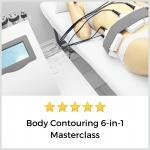 ---
Are you looking for a good 6in1 Cavitation Machine?  We can help!
Here's a
6in1 Cavitation Machine
like the ones we use in our medical spa!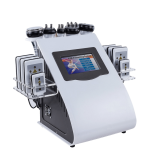 We are amazon associates, so if you click on a link that is a qualified purchase, we may earn a small fee.  It comes as no extra cost to you and we only recommend products based on our experience and/or use.
---