Why your body contouring business must implement local marketing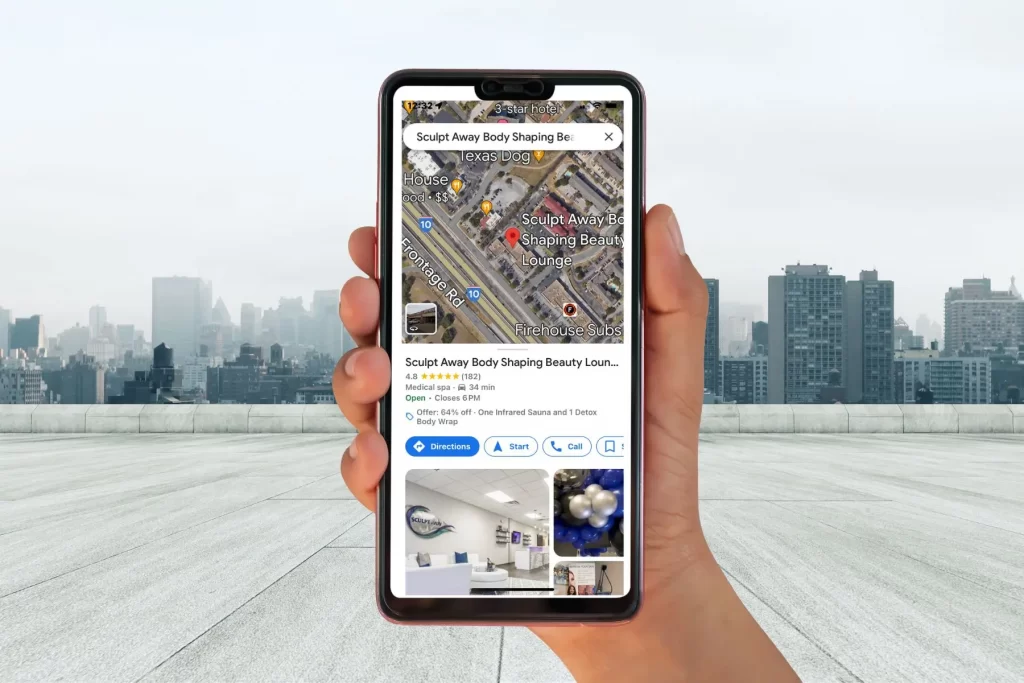 As a brick-and-mortar personal services business, your local market is where the majority of your clients and prospects reside.  Most people who do business with you will live within a fifty mile radius of your business.  The reason is simple.  People want convenience and are more likely to utilize the services of a business that is located close by.  That's why every body contouring business must implement local marketing.  Local marketing is the term used to define any marketing efforts you use to specifically target the people who live within a certain radius of  your business.
In this article, we'll discuss how to use local marketing to reach and win over your local target market.  You'll learn
Everything you need to know about local marketing
Focus your efforts on these 4 essential local marketing strategies 

Google My Business
Mobile-friendly website
Web-based directories
Localized website
Other local marketing ideas

Host events or join community events
Neighborhood publications
Sidewalk signs
Localize advertising
I. Everything you need to know about local marketing
By nature, your body contouring services are locked into your physical location.
Whether you operate out of your home or within a store front, whether you deliver a variety of services or only body contouring treatments, your physical location is where you sell and deliver your services.
Local marketing specifically targets consumers within a specified radius of your business location.
Local marketing can be done via digital and traditional marketing media.
As with any marketing effort, the key to success with local marketing is narrowly defining your target market…which includes their geographic location.
Example
Say for example, the consumer is looking for fat reduction services.
How does she find you?
Likely via an internet search for "fat reduction near me" or "fat reduction treatments 78230."
That's local marketing
Local Marketing Statistics
Check out these statistics to see why local marketing is critical to your success.
72% of people who did a local search visited a business within five miles of their location
"Near me" or "close by" searches increased by over 900% over in a two year period
88% of mobile phone searches for a local business resulted in a call or a visit to business within 24 hours
II. Get started with local marketing
Focus your local marketing efforts on these 4 essential local marketing strategies:
A.
Claim your Google My Business (GMB) Listing
One of the smartest (and most effective) local marketing strategies is claiming your Google My Business (GMB) listing.  Google does not charge for this service; it is completely free to use.
A GMB listing provides search engine users with information about your business:
Your business address and location
Google map directions to your business
Your hours of operation
Your phone number
A link to your website
Customer reviews
And GMB gives you the option to include additional information, such as:
Questions and Answers
Current promotions
Social media links
Links to schedule an appointment
Details of your services
Get help setting up your GMB listing with the free Google My Business Guide!
It'll take about 20 - 30 minutes of your time to set up your GMB listing.
For an easy step-by-step guide to setting up your Google My Business profile, use the easy to follow directions in  Hubspot's blog, The ultimate guide to google my business.
B.
Confirm your website is mobile friendly
Did you know that 97% of American consumers own a smartphone?
It should come as no surprise that 61% of mobile users are more likely to do business with you if you have a mobile-friendly website.  Mobile friendly websites load with ease and are simple to navigate. They're user friendly.
Ensuring your business' website is mobile-friendly will boost your business.
C.
Consistent business listings on web-based directories
There are a multitude of third party review sites, websites and directories that feature local businesses to help consumers make buying decisions.  As a local business, you cannot afford to miss the opportunity for a presence on these web-based sites.
What are some examples of web-based directories?
RealSelf
Yelp
Yellowpages/Whitepages
Google My Business
Your listing is important and consistency is a MUST
Your listing on every third-party directory must be the same.
The consistency between your business name, address, phone number and website URL is extremely important.
Search engines like Google do not like inconsistent business information because it makes for a bad experience for their users.
D.
Localized website
1. Localization Terms
Your business' website should contain content that appeals to customers in your local market.
This should include location-based terms within the content.
Add localization terms on your website; make sure you stay relevant and consistent.
Example of localized website content
For example, instead of "cellulite treatments" on your homepage, it should read "best cellulite treatments in Phoenix."
2. Location page(s)
Include a location page on your website that contains your business name, address, phone number, business hours and a map (map is optional, but preferable).
III. Other local marketing ideas
A.
Host events at your business and/or join community events
With local marketing, you're not limited to digital marketing.  Building a real world relationship with your local market is invaluable.
Host quarterly educational events at your business.
Participate as a vendor in community events.
Partner with another local business and co-host an educational event.
Donate prizes to community events.
B.
Neighborhood publications
Most neighborhoods or 'geographically defined areas' have local publications that keep them informed about their community.
Local newspapers and magazines are still very much alive and well.
And you might even consider a spot on your community's lifestyle television show.
C.
Sidewalk signs
To grab the attention of passers by, put up a sidewalk sign outside of your business.
At a minimum include this information on your sign
Your business name
OPEN!  Please come inside!
A catchy phrase about the solution(s) you offer
You may also want to include
A promise of a reward for coming inside, i.e. Come in for 25% off!
D.
Localize your advertising
Google and Meta paid ads
Ads can be targeted by geographic location on (1) search engines like Google and (2) on social media platforms like Facebook and Instagram.
Targeting ads within the confines of a certain radius will bring you a much improved return on investment.
Make sure you add relevant keywords, i.e. localized content, to your ads.
Example:  include something like 'Serving San Antonio'
Direct Mail
When you narrow your target area, direct mail can be an affordable way to promote locally…even for the small business.
Social Media (no cost)
Use the localization options on your social media platforms.
Set your location in your business profile
Tag your location in every post
Conclusion
Effective marketing that consistently produces high revenue is the very essence of every successful business.  Without it, your business will struggle to achieve success.
Because of the local nature of your business, local marketing is essential.  You must implement local marketing tactics like those discussed above.
If you need help with marketing, consider our online Marketing Body Contouring course 
In the course, you'll
Learn how to set your business apart and outperform the competition.
Learn about the tips, tools, and props that demonstrate your expertise and lead to sales.
Learn what body contouring content you must include in your website, and discover optional/preferred elements to make your website achieve maximum performance.
Learn how to determine and define your competitive advantage and your unique niche so that prospects choose you and your body contouring business.

 
PLUS!  You'll learn how to outperform your competitors on your social media accounts!
AND!  You'll learn how to avoid costly marketing and advertising mistakes!