The WOW Differentiator A Critical Step in Building a Profitable Body Contouring Business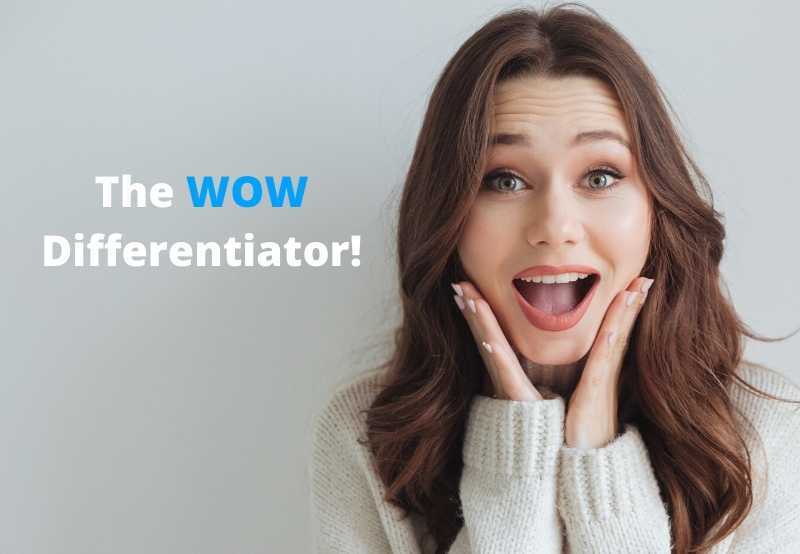 Do you want your clients to choose you for their body contouring needs?  Do you want to attract new clients for a profitable body contouring business?
Yes!  Of course you do!
But how?
Differentiators
The foundation to attracting more body contouring customers and bringing in more revenue from body contouring services is with differentiators.  As the name suggests, differentiators increase your competitive advantage by separating you from the rest of the crowd.
You develop your business' differentiators by offering your clients something different, unique, better, and distinct from others who provide body contouring services similar to yours.
There are six primary ways to differentiate and some are more effective than others.
In this article we focus on the WOW Differentiator, a must for anyone offering non-invasive body contouring services.  As you read, consider how you would apply the WOW Differentiator to your business or practice.
The WOW Differentiator for building a profitable body contouring business
The WOW Differentiator requires you to amaze and impress potential clients even before they become your customer.  How do you do this?
Perception of expertise in a profitable body contouring business
Clients want body contouring treatments by experts in body contouring.  Maybe you are an experienced provider, but maybe you're completely new to body contouring.  Either way, WOW dictates you to give potential customers the perception that you are an expert in body contouring.
Business-within-a-business
Whether you focus solely on body contouring or whether body contouring is one of the multiple services you provide, you must set up body contouring as a separate business or a business-within-a-business.  That's the only way to WOW from the start.
You may be thinking, "That's impossible.  How am I going to do that?"
But it is possible and it's really not difficult.
Step 1.

  WOW them with your Website

Because WOW'ing starts with your website.  Your website creates the opportunity for you to create the perfect 'first body contouring impression.' Your website should show the customer why she should choose YOU for her body contouring needs.

Landing or Web Page(s) dedicated to non-invasive body contouring

Your body contouring page(s) on your website must include the following elements:
A separate landing page(s) 
Tell "your story" on that page, i.e. why they should choose YOU, i.e. your USP (we'll discuss your Unique Selling Proposition or USP in future articles)
Include a couple of short videos about your body contouring services
Add client testimonials
Include your contact information
Include a contact form
Offer an easy way to book an appointment or get more information
Step 2. 

WOW them with Blogs and other Digital Resources

Be the body contouring expert by blogging.  Blogs provide a way for you to display your knowledge and educate your clients and potential customers.  Good blog posts discussing body contouring issues convey your expertise in body contouring.
Step 3.

  WOW them once they arrive.

Once the prospective client becomes your customer, you need to continue to WOW them once they arrive at your place of business.  We'll discuss ways to continue to WOW them when they arrive and even after they leave in future articles.
Want to learn more about creating and growing a profitable body contouring business?
Check out our Certification Courses!