Why your body sculpting training plan needs this Pressotherapy course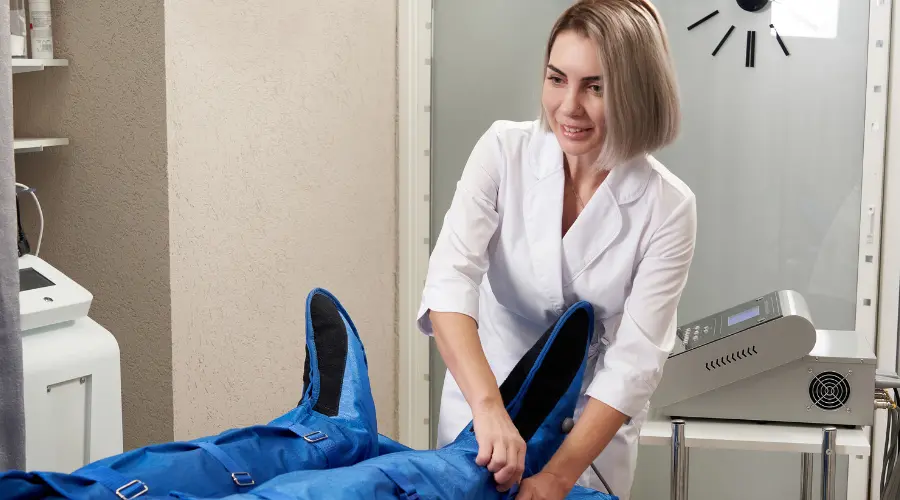 Lymphatic drainage is inseparable from non-invasive body contouring.  Why?  Our body sculpting treatments kill fat cells but the lymphatic system must remove them from the body.  Thus the most successful body contouring professionals encourage lymphatic booster treatments to accelerate and optimize the results of treatments like ultrasonic cavitation, lipo laser and cryolipolysis.  Pressotherapy technology is a leader in the field of lymphatic drainage treatments.  And you can get certified in Pressotherapy and add Pressotherapy treatments to your menu simply by taking advantage of this quick and affordable online Pressotherapy course.
In this article you will learn
The lymphatic system and non-invasive body sculpting
Pressotherapy and how it works
How to implement Pressotherapy into your practice
Pressotherapy benefits
Pressotherapy treatment areas
The profitability of Pressotherapy
Getting your Body Contouring Certification in the online Pressotherapy course
The lymphatic system and its relationship to non-invasive body contouring
(It's why you need certification from the Pressotherapy course)
To understand Pressotherapy, you must first understand the lymphatic system and its relationship to non-invasive body sculpting treatments.
You're familiar with the blood circulatory system.  The lymphatic system is our body's 'other circulatory system,' tasked with the removal of waste, excess fluids, and toxins from the body.
Non-invasive fat reduction and cellulite minimizing body sculpting treatments work by releasing fats, excess fluids, and toxins into the body.  The lymphatic system must remove this debris before you or your client (or anyone) can see the results.
In an ideal world, our client's bodies would efficiently eliminate the debris left behind from our treatments.  But unfortunately, modern lifestyles actually impede lymphatic performance which often results in less-than-optimum results that take way-too-long to see. That explains why the ultimate guide to the best body contouring courses tells us that we cannot do without lymphatic assist treatments in our body contouring treatment menus.
Movement, i.e. daily walking
Adequate water intake
Low stress levels
Proper nutrition
Deep breathing
Modern lifestyles work against healthy lymphatic function
Movement - most don't exercise regularly and sit too much; the lymphatic system has no pump and relies on our muscles to move it along
Water (hydration) - most clients do not adequately hydrate; lymphatic fluid ('lymph') is composed of 96% water
Stress - many of our clients suffer from some form of increased stress or even chronic stress which brings about biochemical changes that are detrimental to lymphatic function
Nutrition - poor quality diets increase lymphatic congestion
Breathing - deep breathing moves the lymphatic system; most of our clients don't set the time aside for deep breathing exercises
How to implement lymphatic assist treatments like Pressotherapy in your practice
Lymphatic booster treatments enhance lymphatic flow by increasing blood circulation and lymphatic circulation
There are a variety of lymphatic booster technologies from which to choose
Pressotherapy technology is one of our top two favorite lymphatic booster treatments
Pressotherapy treatments assist your client's lymphatic system and lead to fast, optimal results
Clients love Pressotherapy treatments
The Pressotherapy course is quick and affordable, so its easy to add to your menu
The Pressotherapy course will provide you with everything you need to implement Pressotherapy into your practice right away!
What is Pressotherapy and how does it work?
Pressotherapy, aka pneumatic compression technology, is a non-invasive computer-controlled and programmed lymphatic massage.  As the name suggests, the treatment involves the application of alternating compression ('pressing') and decompression ('release of pressing') of air upon the body, which is delivered via the machine's bodysuit (worn by your client).
The machine inflates and deflates rhythmically to increase both (1) blood flow and (2) lymphatic circulation to and from your client's lymph nodes.
This dual action accelerates and optimizes the elimination of debris - the fats, toxins, and excess fluids from your client's body.
The result?  Faster and enhanced visible results following your client's body sculpting treatments like cavitation, lipo laser, vacuum therapy and radiofrequency...a happy client...and a  successful body sculpting business.
Clients love Pressotherapy treatments
It's not difficult to motivate clients to schedule for pressotherapy treatments.  Clients love the indulging treatment.  They liken pressotherapy treatments to a relaxing full body massage.
Pressotherapy Benefits
Pressotherapy is not only an integral lymphatic assist tool to delivering enhanced results for your clients.
As you'll learn in the Pressotherapy course, Pressotherapy can also be used as a stand alone treatment because it has many benefits of its own.
Generalized slimming
For the clients who feel swollen, puffy, bloated, or complain of weight gain
For the clients who are committed to a total body sculpting program
Targeted slimming
For the clients who want to focus only on a problem area
Smoothing and firming
For clients wanting to smooth cellulite and tone skin
Detoxification
Modern lifestyles compromise lymphatic function
All clients benefit from the detoxifying benefits of Pressotherapy
Clients undergoing body sculpting treatments need the detox assist
Clients who desire to lose weight need the detox assist
Pressotherapy treatment areas
You'll also learn in the Pressotherapy course that Pressotherapy treatments can be customized to your address your client's needs.
You can use Pressotherapy to target a problem area or you can treat the entire body.
Total body - legs, abdomen and arms (exclude breasts)
Lower body (legs)
Lower body and abdomen
Abdomen
Abdomen and arms
Arms
The profitability of Pressotherapy
Adding Pressotherapy to your body sculpting training plan will not only deliver happy clients (which is priceless), it can be a big increase to your monthly income.
You can perform a Pressotherapy treatment within an hour time block, spending 30 - 45 minutes actual treatment time.
And because Pressotherapy is a treatment in which you can get your client started, then leave to see another client or complete another task, it can be quite profitable.
Depending on your goals, it can be a 'set it and leave it'

treatment.

  
We recommend charging $75 - $175 per treatment, depending on your market.
Take a look at your added income potential from Pressotherapy!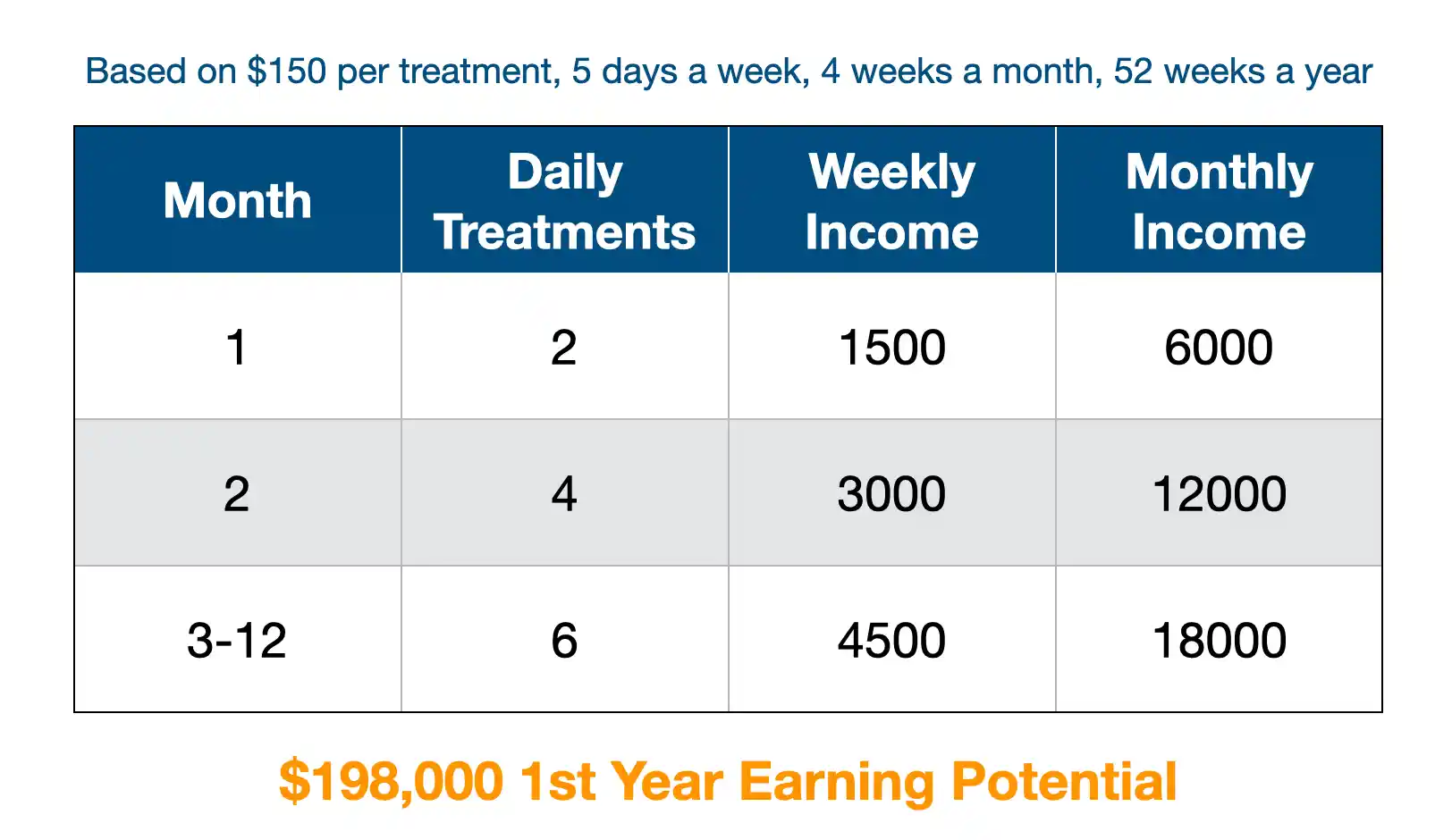 See why you need a Pressotherapy course as a part of your body sculpting training plan?!
Upon completion of the online Pressotherapy course, you will
Get your Certification in Pressotherapy right away and start doing treatments
Become an expert in Pressotherapy!  You'll know the science behind the technology and the body conditions
Possess the know-how to (1) set your pricing and (2) design your treatment plans
Hit the ground running with ready-made Protocols, Consent form, Treatment form, and pre/post instructions
Build your business and maximize your income doing what you love!
Are you looking for a Pressotherapy machine?  We can help!
Here's a Pressotherapy Machine like the ones we use in our medical spa!
Visit www.bodycontouringacademy.com for information about growing a business with body sculpting.
Editor's Note: This blog was originally published in November of  2021 and has been completely revamped and updated for accuracy and comprehensiveness.