6 Website mistakes that may be costing you sales in your aesthetic business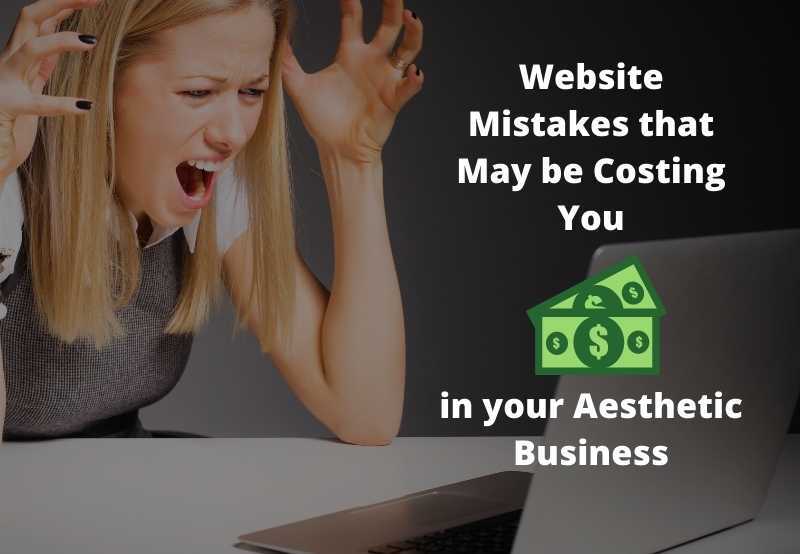 An aesthetic business cannot thrive and grow without a strong internet presence.  Your website serves three primary purposes: (1) to tell the world you exist; (2) to educate clients about your solutions; and (3) to show clients that you are the best choice to solve their problems.
When potential clients are looking for solutions to problems that you can solve, your goal should be to attract them to your website, convert them into leads, and then turn those leads into sales.
How do you know if you're losing sales on your website?
All too often sales goals are not reached.  So we're often asked, "How do I know if I'm losing sales on my website?"
Every website loses sales every day.
Our short answer is that every website loses sales every day.  There's no way to convert 100% of the visitors to your website – that's just not realistic.  Not all the visitors to your website fall within your target market; some visitors are not qualified, a few are just curious, etc.   And though we'd love it if it were so, none of us really expect to close 100% of our sales opportunities.
But you don't want to settle for low conversion rates in your aesthetic business
With that said, however, you don't want to settle for low conversion rates!  You've most likely invested a sizable budget into building your online presence, marketing, and your SEO efforts.
In this article, we'll highlight 6 website mistakes that could be unnecessarily costing you sales.
Common Website Mistakes that could be Costing you Sales in your Aesthetic Business
Website Design and Functionality
If you have overcrowded pages, inadequate content, content that is company-focused rather than consumer-focused, challenging navigation, and/or broken links; it will aggravate your visitors and they will leave your website and move on.
Your website should be user friendly and easy to navigate, contain clear and concise educational information, and have a visually appealing design.
Consumer-Focused Content
When visitors land on your website, they are looking for solutions to their problems.  So your content should answer their question, "What's in it for me?"  Your goal should be to provide enough value to convince the visitor to hang around.  Explaining what you do is important, but take it a step further and relate it to the clear benefits for the client.
For example, your treatments reduce cellulite.  But so what?  What does reducing cellulite mean to your clients? It might be the difference between going on a beach vacation, or staying home.  See the difference?
Page Speed: The 3 Second Test
Studies tell us that if a website page takes more than 3 seconds to load, 40% of the visitors will leave the website without viewing any content.
To test your website speed and learn what actions to take, check out Google PageSpeed.
The Above-the-Fold Rule
Where does your most appealing content or calls to action reside on your home page and web pages?  If you don't grab the visitor's attention within 3 seconds, they may start clicking.
Everything on the top of each page (aka "above the fold") must convince the visitor to read on and continue.  You don't have to make the conversion within 3 seconds, but you do need to keep the visitor interested, and on your site clicking around.
Contact Information and Call To Action (CTA)
We've reviewed many websites without a strong CTA (call to action).  Some didn't have a call to action at all. That means if a website visitor wants to communicate with you, she'll have to find you on her own.
How do you want your website visitors to contact you?  Telephone, email, text?  Different people prefer different modes of communication, so we suggest you make all of them accessible.  Display your phone number, your email address, and your text number prominently on every page of your website.
Lead Magnet(s) for your Aesthetic Business
Not every visitor is ready to make contact.  Truth is, most aren't, but that doesn't mean they'll never buy from you.  They're just not ready…yet.
You need a lead magnet or several lead magnets for those visitors who are not yet ready.  A lead magnet involves you offering something of value for free, in exchange for the visitor's contact information.
Since these prospects are interested, just not ready to buy, you can use their contact information to stay in touch, nurture them, provide education, and build trust until they are ready to buy or talk about buying.
Take this Action Step Now!
Take a look at your website.  Are you making any of these 6 mistakes?
If so, take the time to correct.  It's costing you sales.
Would like a review of your website – or-  information about building a website designed to convert and sell your aesthetic services? Contact our partners at ProMed Aesthetic Marketing 
Are you interested in using body contouring to grow your aesthetic business?