7 steps to going all-out to open your body contouring business with FREE pdf Guide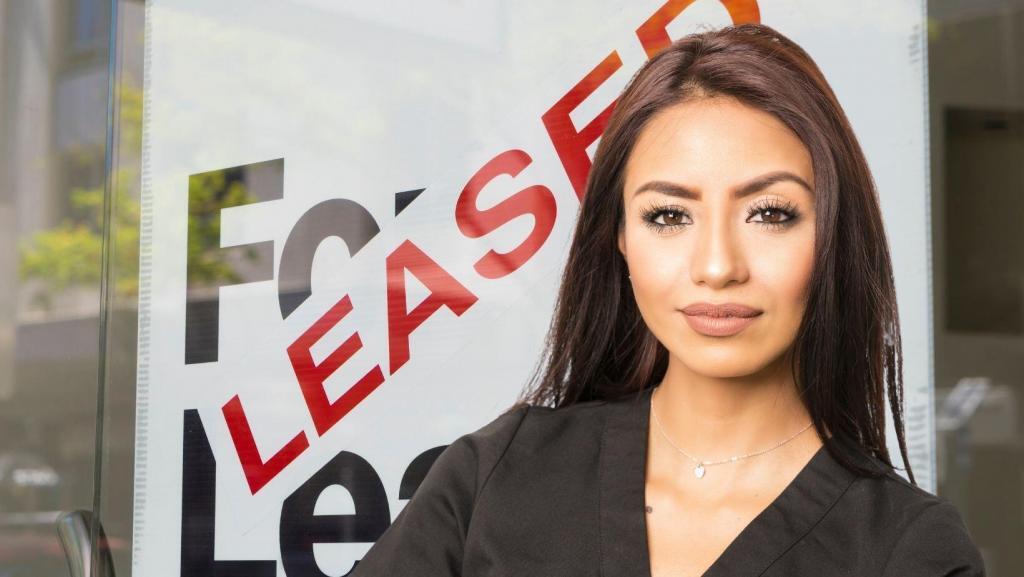 Every year, more than 800,000 Americans successfully start their own business.   Most start with a home-based business model due to limited resources.  And though this works fantastically for many, it's not the best model for everyone.  If you want to "fully commit" – to go all-out and give everything you've got to open your body contouring business, then this article and this business model is for you.
Welcome to the third in a three-part blog series showing you how to set up your first body sculpting studio so you can open your body contouring business!
In our series, we'll discuss three body sculpting business models
Body sculpting business within a brick and mortar lease space or booth space
We'll discuss the benefits of each of these three choices
We'll tell you how to prepare for each of these three options
And…we'll give you a FREE body sculpting business guide for each model so you can feel confident you're getting it right!
In today's article, we explore how to open your body contouring business by going all-out with a brick and mortar lease space Body Sculpting Business
Lease Space Body Sculpting Business
A lease space body sculpting business model provides the surest way to fast track your dream of body contouring business riches…into a reality
The body contouring business is booming like no one's business.  Demand is growing nearly by the day.  If your dream is to jump on this opportunity and build a big, profitable body contouring spa, the lease space body sculpting business model might be right for you.  When you open your body contouring business using this model, your potential for profit and growth goes through the ceiling.
Besides the huge potential for profits and growing your business, the lease space body sculpting business model has other advantages.
Will you answer the demand and open your body contouring business using a lease space business model?
Benefits of a lease space body sculpting business
1. You can deliver the ultimate 'spa experience'
Consumers expect body contouring services to align with spa services, including the 'spa experience.'  Your body contouring clients want (and even expect) to feel relaxed, restored, refueled, and indulged.  You can build your client base rapidly when you deliver the 'spa experience' within an ideal location, and your concept, design and special touches make your lease space in high demand.
2. Professional appearance
Have you heard the phrase, "perception is reality?"  The image your client's hold of your body sculpting business cannot be understated when it comes to the probability of your success and growth.  First, due to the ONE fact that you have a business location, your clients will view you as a professional.  Then with every additional touch you make to your business, you enforce the perception that you are 'a body sculpting expert.'
3. Ability to offer more services and an expanded menu
Because you won't have to travel with your 'studio' (mobile biz) or store your studio at home (home-based biz), you will be able to take on more machines and equipment.  This allows your menu to grow and meet the growing needs of your clients…which means more money in the bank. And as noted in the ultimate guide to body contouring certification courses, the lease space model can yield a yearly income of $100 ,000.
4. You can charge more for services
When you open your body contouring business within a lease space, and follow our steps (in the next section below), you can demand a higher fee for services.  Think of it as a 'professional premium' or an 'experience premium' because of the environment, ambiance, and experience you are providing your clients.
5. Potential for growth
Depending on the size of your lease space, you will have room to grow and a growing list of clients to consume the services.
How to prepare for a lease space body sculpting business
This business model is the most ambitious (and highest risk) of the three models, so it's important to make a few decisions early on.
1. Goal setting and number crunching
Draw up your short-term and long-term goals.  Make sure they are realistic and precise. Prioritize them in order of necessity.  Assign deadlines to achieve the goals. Ex: Increase fat cavitation treatments by 5 per week, month 2-6, reassess at end of month 6
Reassess and reset your goals regularly
Calculate your startup costs
Calculate your overhead
Set a detailed startup budget
Establish a detailed monthly operational budget
Establish a detailed monthly marketing budget
2. Understand your market and identify your target market
Who are your target customers, demographics, professions, gender, etc.?
Where are your target customers, what zip codes or neighborhoods?
What do your target customers want, look at social media chat, competitor's offerings?
Determine what customers are looking for
Research your competitor's websites
Visit 2-3 of your closest competitors
Develop a clear understanding of your target customers, their needs and desires
Know what area of town your clients frequent
3. Select your space and location
It is often said (and it is true) that the secret to a successful business is location.
Location considerations
Visibility
Parking
Demographics
Traffic, foot and vehicle
Type of area (retail is best in most cases)
Accessibility
Proximity to competitors
Size of the space
Your lease space is one of the largest expenses you will have.  What are your current and future needs?  How many rooms?  Will you need a reception lobby, a phone office, a break room?  Though your needs may start small, growth can happen quickly.  Every inch within a space counts.  Your goal is to find a space within your budget that has room for your business to grow.
PRO TIP:  Do not underestimate the potential of rapid growth.  Our last medical spa grew so quickly that, within 10 months of opening, we needed to add an adjacent 1200 sq ft lease space to our business.  We were fortunate that the space was available.
Finish out and signage
Be sure to include the cost to finish out your space and your signage costs within your budget.
Often times, you can negotiate with your landlord to pay a large portion of your finish out, especially if you agree to enter into a longer term lease (ex: 5 years).
4. Supplies and Machines
You can find the complete list of recommended lease space body sculpting business supplies included within our FREE downloadable Body Sculpting Business Guide for the lease space body sculpting business model which you can find further down in the article.
---
Are you looking for a good 6in1 Cavitation Machine?  We can help!
Here's a 6in1 Cavitation Machine like the ones we use in our medical spa!
#ad We are amazon associates, so if you click on a link that is a qualified purchase, we may earn a small fee.  It comes as no extra cost to you and we only recommend products based on our experience and/or use.
---
Do you need to get Certified in body contouring?  We recommend our Body Contouring 6 in 1 Masterclass.  You'll earn certification in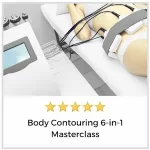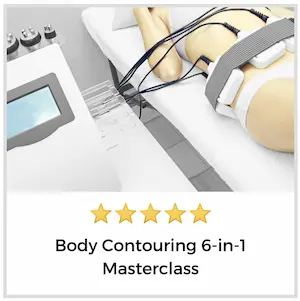 Cavitation
RF Skin Tightening
Vacuum/LED
Lipo Laser
Body Contouring 6 in 1 Masterclass
---
5. Furnishings
You may need furnishings, depending on the size of your space and the number of rooms in your space.  Consider your need for these items.
Reception chairs and/or sofa
Reception tables
Receptionist desk
Chairs for treatment rooms
Break room table and chairs
6. Setting your fees
By following our steps, you have created a great body contouring destination.  Even so, when building your business, you may want to keep your fees within the range of your competitors.  Start increasing your prices as soon as you build up your client base.  Then after you have established your reputation as a body contouring expert in high demand, increase your fees again.
Be sure to figure your overhead on an annual basis and make sure your fees include a healthy profit.
7. Investigate Legalities
Depending on your locale, your business will need to meet certain legal requirements.  Note:  Some states have additional requirements.  Check with the officials in your jurisdiction.  And don't forget insurance coverage.
Certificate of occupancy for your space
Federal Income Tax ID (EIN)
Liability insurance for your space
Liability insurance for you and your team
Is a lease space body sculpting business model for you?
This business model yields the highest rewards, both financially and professionally.  Are you ready to be admired by others?  To commit to building a high-growth, high-profit body contouring business?  To go all-out and open your body contouring business in a lease space?
Get your FREE Lease Space Body Sculpting Business Guide now!
Complete the form below to get the Guide delivered straight to your email inbox.
This concludes our body contouring business model series.  We hope you've found it helpful.
Did you miss an article and a guide?
 Mobile Body Sculpting Business Model Guide.